[INTERVIEW] HOW I BALANCED MY SEWING BUSINESS WITH ACADEMICS TO MAKE FIRST CLASS ~ IGE OLUWATOBILOBA ELIZABETH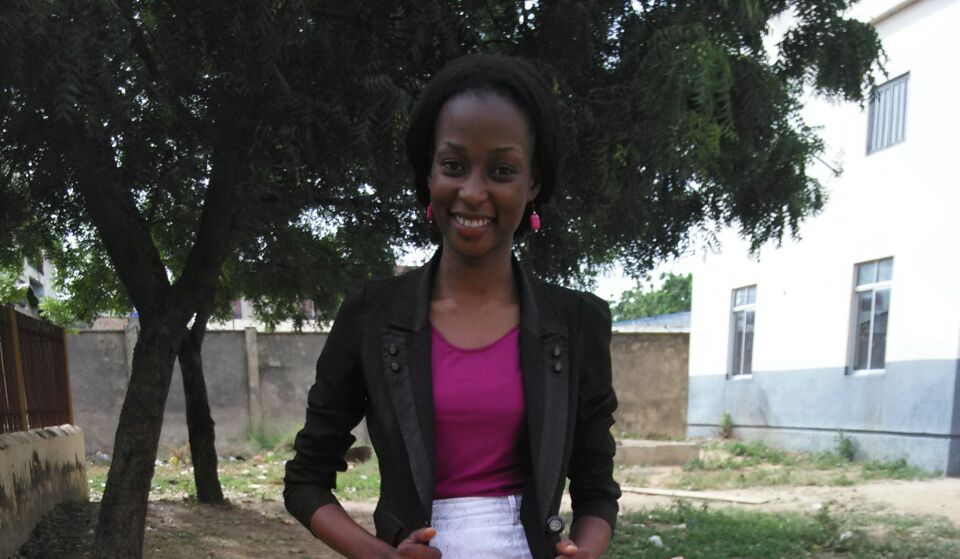 Beauty, brain and business acumen melted in this First Class graduate of Business Administration, of Adekunle Ajasin University, Ondo State, Ige Oluwatobiloba Elizabeth. When Tobi, as she is fondly called, got admission into the University, her parents gave her one mandate – make a First Class. She came to school in pursuit of that mission; but her skill at making beautiful clothes placed a demand for her services even when she had no sewing machine. Consequently, she started sewing from second semester first year till graduation. Tobi made money without disappointing her parents. In this interview with Brojid World Editor, Joseph Dinwoke, she shares her story, how she balanced her academics with her business to clinch first class. Relax and enjoy this inspiring interview.
---
Thanks for joining me on this week's edition of Brojid World Campus People. Let's meet you.
I am Ige Oluwatobiloba Elizabeth. I am from a family of five. I am the first born of my family, I hail from Ile ife in Osun state. I am based in Lagos and my university education was in Business Administration from Adekunle Ajasin University, Ondo State.
Why did you choose your course?
My choice of business administration was not really a serious matter initially, all I wanted was to go to school because everyone expected me to be an accountant,  but as time went on I got to realize that I have no regret for this choice because it is wider in scope and also most importantly it was the right course for my purpose in life.
What scared you most as a first year student?
My thought from time was that university makes you free from school stress; but I was shocked to realise that I had to go for 7.00AM classes as a Jambito, it was so serious that at times you know a friend of ours would have to come to wake us up for GST classes.
Why did you choose the path of entrepreneurship as an undergraduate?
I never wanted to be a business person on campus.  But I know I always want to wear my thing. It started from where people started getting to know that I made practically all the clothes i wear even designing my bags and shoes the, especially something I made myself. I even made my signet myself. When people see it and ask who made them, my roommates started broadcasting, "She made it herself."
When did you learn how to make clothes?
I leant it from my mum from when I was small. My mum makes all kinds of clothes and even sells to people.
After the second semester of 100 LEVEL, people started disturbing about me making clothes for them. When my mother called, my roommates told her to get me a machine.  Initially, my parents thought that it's going to distract me because my Mum wanted a first class child and my Dad was against the idea of business and schooling. For me, I felt that it's a way of assisting the family financially.
Eventually, the machine was sent to me and I started sewing from second semester 100 level to even after my final year defence.
Did you encounter any challenges starting?
Yea, I did! The main challenge I had then was that I had to struggle with my reading. I used to go to library very well; but when I started sewing it reduced.  Health wise, I wasn't very strong.
Also, it's not all the time you find well mannered people come to do business with you, especially people like you that are into craft work?
Then, I told God to work out patience in me. Before long, I saw that God has started working it in me. Aside teaching me from the Bible, He used fashion designing to teach me.
At times, customers tell you the style they want and it's an impossible style. For instance, a customer will be telling you, let it have hips for me and I look at the customer and am like, 'If you don't have the hips how am I going to be God that will provide hips for you.'
A customer tells you, let my hips show, and I will ask the customer like, 'So, you mean you will have hips and I will be hiding the hips?' If you truly have hips, it will definitely show.
Some tell you, 'Let my clothe be shappy like the way this girls hips is' but they don't realise that their shape is different from other girls.
At times, customers come to my room, on campus and all the magazines you bought for my designs and sewing, they will just scatter everything.
The major challenge I have with customers is that many of them are ill mannered. Even some customers will tell me that they can't have the kind of patience I had with some funny customers. They will come to your room and talk to you anyhow and you don't say anything.
If you really want to go into fashion designing, you really should have endurance. If you can't endure people, you can't go far. Even when you make a perfect dress for someone   when the person sees the clothes without wearing will ask you, will this clothe fit me? When she finally wears it, she will start hailing you, 'My tailor my tailor.' If you have gotten angry initially, how will you have consoled yourself when she starts hailing you?
How did you get your first customer?
I can't really recall how I got my first customer; but I never called anyone. Coincidentally, second semester was the time of dinner for all departments. I had more than first 10 customers. That was how it started.
How did you balance your business with your academics?
I will say to God be the glory. It was not by my work. People who know I was sewing and still made first class didn't believe it. I had two best friends then and they let me know when a lecturer is in class so that I ensure I am in the class. Also, i am a night reader, as this will help me to catch up with the time spent on sewing during the day.
What I ensure is that my aim of coming to school must not be jeopardized. I can read from 10pm to 4am. I try to reach at a stretch. So, I read mainly at night.  When it's close to exam, I reduce the sewing work I did and my result turned out wow.
How did you improve on your ability to do your work very well?
I go online to search for styles and designs. I still do it now and go through the styles over and over again. That makes me able to guide my customers well, when they make demands. I also make some  designs myself and draw some sketches in my jotter. I learn from people like my sisters as they are also into fashion design.
 Do you intend doing fashion beyond school?
If I will be doing that beyond education, I will want to focus on the teaching aspect. But to start struggling in the market to become top, I am not sure I want to do that. Fashion for me is about passion and not the competition to b the fashion leader.
How much did you make monthly on campus?
 I can't really say the actual income as there were so many expenses to cover with it. Sometimes there are clothes you start and finish in a different month; but I can say at least I made between 20-25k per month.
If you have the opportunity to speak to 5000 African students, what would you tell them about doing business on campus?
It's the sweetest! When I recall what happened, I feel like staying back to really do business on campus. You know some people say they can't do two things at once. You can actually do five things at once. After all, your first sense organs are working at once.
It's not a matter of pride; I was the best graduating student in my faculty, I was an EXCO in my fellowship, did my business, researched for my finial year project and typed it myself, if by the grace of God I could go through all these, why can't you?  You know even my supervisor was surprised.
Doing business in school makes you independent. Your parents will be happy seeing you do it. They may not tell you; but they will be proud of you. Initially, my Dad didn't support it but he was happy when I brought my result.  When I showed him my result, he just smiled. You know men may not be able to express their feeling emotionally, but the handshake was wow.
Please advise a Jambito on making First Class.
Don't hate a teacher. I had Red in my maths because I hated my match teacher in secondary school.
Understand your lecturers' tactics and follow it totally. Some lecturers want you to cram and pour; some others want you to express yourself. Just find out what your lecturer wants and give it to him.
Pray. If you pray; you won't need any help in the exam. When I stopped discussing in exam, I started making 4 to 5 points.
What's wrong with helping people in exam hall?
Exam malpractice is malpractice. If you read on your own you will do well. I know you will definitely forget some things but if you wait patiently, you will remember. Remember that A is 70 and above, not 100 and above!