"I STARTED MY FASHION DESIGN IN A ROOM I WAS SQUATTING IN WITH SEVEN WOMEN." ADIEL EZENWA, CEO PABV CONCEPTS
When Adiel Ezenwa, the CEO of PABV Concepts, decided to dump her degree in Statistics to be become a fashion designer, little did she know she was setting out for an uphill journey. Aside the resolve to pursue her passion of fashion designing, she also chose be her own boss. Her decision set her against her mother's wish, who had wanted her to get a regular 9-5 job; but she remained resolute.
Consequently, she had limited financial assistance; she had to squat with seven women in a room. From her corner-of-a-room apartment, she started PABV Concepts and has grown to a better office space, large customer base, members of staff and a fashion school. On BizPeople this week, Brojid.com Editor, Joseph Dinwoke X-rays how she started, her challenges, how he surmounted them to run a successful business.
---
She is a fashion designer and tailor. Her foray into fashion design was not a result of joblessness, frustration or compulsion but passion – passion to create clothes that will make her clients stylish in African fabrics.
She became a tailor due to the dissatisfaction she experienced giving tailors fabrics to translate her design into clothes. "I think in pictures," She tells this reporter. "I found out that I create perfect picture of what my design should be; but once the tailors cut the clothes and sew, I don't get what I want."  Consequently, she enrolled for training to acquaint herself with the skill required to translate her mental designs perfectly.
For Adiel, it's not just fashion design but making men and women stylish in African attire. Hear her out: "I believe that everybody, male and female, can be stylish in Africa fabrics; doing that for my client is my job at PABV Concepts." In fact, she believes so much in wearing African Fabrics that she hardly wears anything English. In my numerous encounters with her, I haven't seen her in any clothe that is not African Fabrics. "I wear things like suit only when it's compulsory." she says.
"I believe that everybody, male and female, can be stylish in Africa fabrics; doing that for my client is my job at PABV Concepts."
The path to her excellence and success in the business of fashion design is not without dear prices paid and obstacles surmounted. At first, well meaning people wanted her to get regular 9-5 jobs to ensure steady stream of income; but her passion propelled her otherwise.
She chose to be her own boss to enable her release all her creative potentials. "I like the freedom to explore and be creative without the hindrance that is common with working for people." She intones. Adiel abandoned jobs and opportunities before her to become a tailor.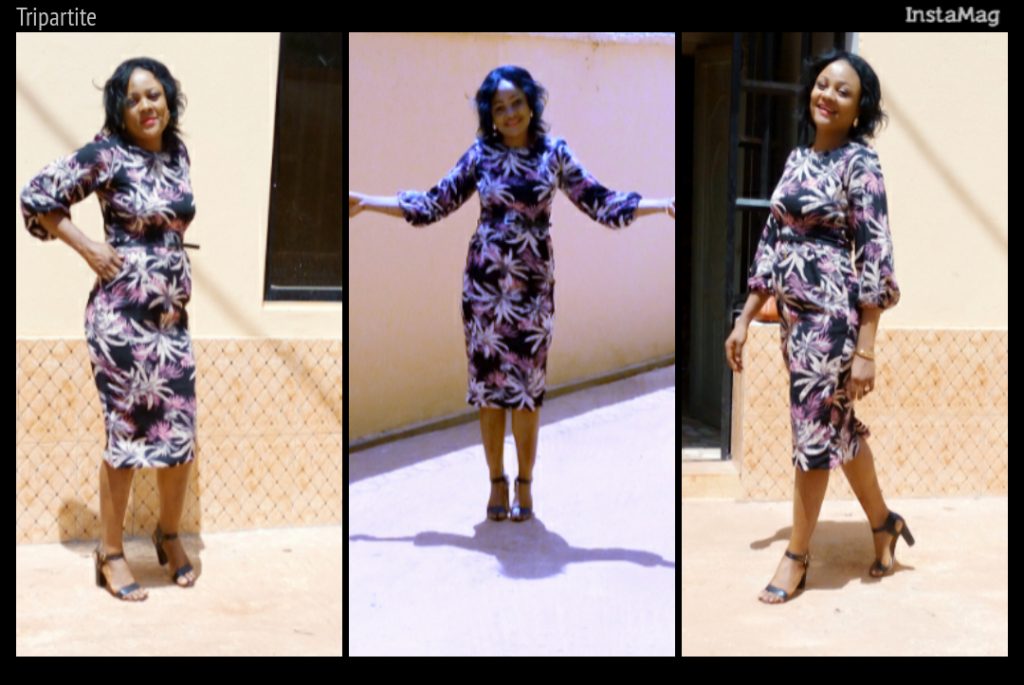 For her, it is fashion design or nothing will suffice for her need for fulfilment. Her late engineer-turned-farmer father instilled the mindset of self employment in her and her siblings. Between graduation from secondary school and gaining admission into the University, her father called her and told her: "If you want to go to school so that you will graduate and get a job, I will employ you tomorrow. I have a job for you in my farm. You are going to school to get educated, exposed and equipped to work for yourself."
Despite the resolve to start her business and pursue her passion, she had her fears – fear of the unknown; fear of possible negative results of her step. She recollects questions roving around in her mind, "What if it doesn't work. What will they say if I fail here?" She pondered.
"I started my fashion design in a room I was squatting. I bought my machine and few fabrics with N20, 000 which a friend gave me. My machine was in a corner of the room where I was squatting with seven women and two of them had two children. So we were 10 in the room."
But Adiel didn't allow her fears keep her from taking the step of giving birth to what would be the only fashion design outfit with the primary mission of making males and females stylish in African regalia. Instead of allowing her fears keep her down her; her faith in God spurred her to step out.  "I just had to take a step of a faith. I started out trusting God. It was actually an act of faith.  Someone like Pastor Ifeanyi Okeke is a key to my starting out despite the fears. He called me one day, sat me down and encouraged me to follow my passion despite the fears."
Many people boast to being self- made but not Adiel. Her pastor, Pastor Ifeanyi Okeke gave her the support she needed. In fact, the fatherly support she lacked due to death of her father, she got from her pastor. He sponsored her and a number of others members of her church, Dominion City, Nsukka, who couldn't afford it to participate in the Dominion Leadership Institute where she was trained on how to turn her passion into a business, packaging and business management.
Beyond sponsoring her training, Pastor Ifeanyi went a step further in her starting out. "Pastor Ifeanyi organized a fashion show for me in church; I made a few clothes and they did run way thing for me." she recollects. Further, she confesses, "It was small but it meant a lot to me. It left a picture in my head – one day, I will be on major runway shows."
PABV Concepts was mid-wifed in 2009, in the corner of a room where Adiel was squatting. "I started my fashion design in a room I was squatting. My machine was in a corner of the room where I was squatting with seven women and two of them had two children. So we were 10 in the room." She recollects her days of little beginning. "Financial support was cut off from me. I had to squat; yet I was happy." She says to the chagrin of this reporter who queries, "Happy? Happy for what?!" "That I am doing what I am passionate about!" She answers with every sense of pride.
From her corner-of-a-room apartment, she started her fashion design business; the journey of making the world stylishly African. "I did my first job of a blouse in 2010 during the NUGA games. It was very bald. I tried to fix it until it was something she could wear. Then, I charged N250 for a blouse, N500 for gown and N1000 for skirt and blouse. It wasn't yielding much, but I was enjoying myself."
She continued to sew clothes for people until she had to change her location to the First Flow, UC Network House, Nsukka, opposite UNN Main Gate.
In her early days, she encountered challenges with satisfying her customers. She knew that a fashion designer resides in her but between the design she had created in her head and the finished clothes, she got something different which made her customers angry and sometimes furious.
She recollects an experience that almost made her give up: "Once I finished making clothe for a woman who was recommended to me by another satisfied customer but when I finished her clothes, she didn't like it. I will be honest with you. I did my best but my best was not good enough and she started raking. She said things like, 'Go and learn how to sew. You didn't come out here to make a mess of people clothes. I bought this fabric with my hard earned money and you are making a total mess of it.' She finished, picked her clothes, dropped her money on the table and stormed out of the office. When she left, MKO, who was here that day encouraged me and left. I closed my door, locked it and started crying. Should I even go and get a job? Is this what I shouldn't be doing? I thought to myself as I cried in my depression. It was a terrible feeling; but when I finished, I knew in my heart that this is what I should be doing."
She picked herself up and continued her work.
Adiel has been growing, waxing strong and getting, more customers. Over the years, she has acquired loyal customers who still do business with her even when they are not within her state of operation. She reveals: "Some of my customers just send me their fabrics and measurement to sew and whenever they come to Nsukka, they pick them."
For her, you don't need to have a lot of money to be stylish. Just understand your body form and get good colour mix and you are sure to be stylish. She makes clothes for people across class – from top executives to students. For her, class is not a barrier and being stylish doesn't require a lot of money. She was trained at Marvintex Tailoring to make clothes for male and female and reveals: "My male customers are thoroughly satisfied. I have actually not had any male customer that was not satisfied."
In her quest to raise other fashion designers who can design and sew with excellence, she started PABV Concepts' School for Fashion Designers. In three months of practical drilling she graduates students who can design and sew clothes for anybody. "After three months, even if you are a complete novice, you will be able to make clothes for yourself and others. It's guaranteed if you pay attention."  She tells this reporter matter of factly.
Adiel and her staff members welcome you at First Flow, UC Network House, Nsukka, opposite UNN Main Gate, Monday to Saturday to make you stylish in African fabrics!
You can call, text/WhatsApp her on: 0806 387 6631
Follow her on Facebook: Adiel Ezenwa and Twitter@pabvng
Editor's Note: Your questions, comments, corrections and commendations are welcome. Kindly, scroll down to see the comment box and drop yours. We will love to hear from you.
---
You can now connect with us on social media:
Facebook: Brojid World I Twitter: Brojid World I WhatsApp: 0810 550 4664.