[INTERVIEW]PROF JONAH ONUOHA: INSPIRING STORY OF A HAWKER TURNED PROFESSOR
Everything about his background positioned him to fail in life or at best end up a trader. By the mix of God's grace and unquenchable quest success, he continued pursue his life goal. On his path to greatness are littered discouragement, disappointment, hunger, and poverty; each of them trying to stop him but he surmounted all of them. Prof JONAH ONUOHA success story is full of drama and lessons for anyone who desires greatness. In this conversation* with BROJID.COM EDITOR, JOSEPH DINWOKE, the Executive Director, Centre for American Studies, University of Nigeria, Nsukka(UNN), shares his story of humble beginning and how he surmounted myriad of challenges he encountered to attain success.
Prof, let's start from the beginning.  Tell us about your early days.
Let me start by saying that my name is Prof Jonah Onuoha and the current Head of Department of Political science, and Executive Director, Centre for American Studies.  My early days were problematic and tortuous. It is not something one will remember and feel happy.
I'm from a family of seven; out of the seven, two person died during the civil war. So we are remaining five basically three boys and two girls. We are all adults now. The girls and now women and the boys are now men. Incidentally, out of all of us, nobody went to secondary school apart from me.
So my being a professor is by the grace of God. You can imagine out of five persons, who came before you, nobody went   beyond primary six. In fact our eldest sister stopped in primary three and got married to a headmaster and she couldn't continue up till today.
Out of five siblings, you are the only person that went beyond primary school and even became a professor. And you said that it's by the grace of God. How did that grace manifest? What happened to push you ahead?
Why I said that it is by the grace of God is that my background cannot explain my current position. I also come from a very poor family. My father and my mother were quite poor. My mother is still living.  She is 101 years old. My father died in 1980 but even before he died, he was not quite useful financially.
I went to primary school in my village and fished in 1975. In 1976, Murtala Muhammadu introduced universal primary education to train teachers. They were looking for teachers desperately and they could not get enough of those who attended secondary school and they said that anybody with primary school who can compete favourably  will  be trained for five years by the Federal Government.
I was one of those who succeeded in getting a scholarship to do five years Teachers Training College(TTC) at Mcgregor College, Afikpo. It was while I was there that they couldn't teach us. Teachers college was designed for those who have gone to secondary school where you come in and do one or two years; depending on your performance in secondary school.  But they don't have any programme for those from primary school; so they couldn't teach us. For a whole year, nothing happened. We will come to class but nobody comes to teach us because they don't know what to teach us. So, many of us started roaming around.
But I noticed something after the first year. I saw a group of people carrying their tables coming to our school to take exam. So, I asked them, 'What exam are you taking?' They said they are taking GCE (General Certificate Examination). They said that if you pass GCE that some of us who were meant to teach in primary school, will teach in secondary school. That was a motivation. That was in 1978. The very year, in 1979, I was supposed to be in second year (that is what you call JS2) I sat for GCE and got two alphas and five credits without being taught by anybody in a formal school.
By grace of God, I bought all the books in Biology, because Biology and Economics was never taught in TTC. They only teach you subjects you are going to teach in primary school. I attended extra mural classes, got some of my colleagues to teach me.
By 1980, I was had my qualifications. I wanted to leave and I applied for IMT (In statute of Management and Technology) Enugu and the qualification was four credits and I had seven credits. There was no other exam; they were just looking at your results.  My name appeared as on of the successful people in 1980 and I was happy to leave the TTC.
Mind you I was in year four and have not reached year five  when I was supposed to take the TTC exam, so I rushed to IMT Enugu  to  collect my admission letter with my elder brother who was also elated. Incidentally, there were many people there. So, if you are called, you will go to the podium and collect. But when I was called, I went to the podium to collect my own admission letter but was told that somebody has collected it. It was quite painful. I nearly collapsed there.
Somebody called me aside and said that if I could do something, in terms of giving them some money, they will release my letter. I talked to my brother but he said he was not ready to do anything; instead we should go home. That was painful
Meanwhile, my collage in TTC who thought I had gone to IMT saw me back to school. It was a big embarrassment.
In 1981, I decided to try again. This time, I registered for Political Science in UNN, Agriculture at Alvan Ikoku College of Education and Business Administration at College of Technology, Nekede and they all gave me admission. I came into the university with that particular result.
From your story of nothing going through a secondary school, writing GCE without going through the secondary school and your academic records, is it correct to conclude that you have special brain power or are there are some things working for you that doesn't work for other people?
I don't know what you mean by a superior brain. It was a mere hard work. You see, when you are pushed to the wall, your best will come out. I think I was pushed to the wall. Let me tell you: if not scholarship from the federal government, I couldn't have gone through primary school. My background was so wretched that I could have been a dropped out by now. I was designed to go to commercial school; to learn how to type things.
We were  already going out to buy books for commercial school after primary school when my in-law,  a primary school headmaster came to town and asked "Where are you going?" I said, "We are going to the market to books to start commercial school." But the man said, "No. You cannot go to commercial school."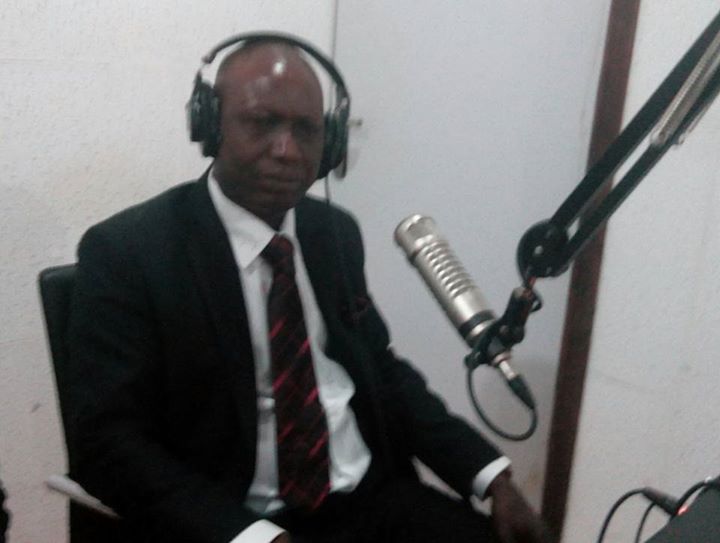 I asked him why. You know, I wanted to leave the market because I normally hawk for my brother all round the whole Umuahia and he wasn't really ready to release me to go forward.
I wouldn't attribute my achievement to any superior brain. I attribute it to the will of God and his Grace.
[Tweet "Things got so bad that I was not sure of what to eat the next minutes. I had no job. For three years, nobody called me or visited me from my family. So, if I had died nobody would have known. Yet; I had no job. I lived the life that one can describe as terrible."]
You graduated in 1985, 1985, you got your MSc five years later you got your PhD. This is unusual. What do you attribute your secret of success to?
The truth is that by the time I graduated in 1985, I was so poor that I couldn't pay for my project. The person who typed my project is now a lecturer in Department of Political science. Dr Vin Onah was a typist then. I had to go for NYSC. During one of the breaks, I sneaked out to pay for the project. That will tell you how bad the situation was.  I paid for my project from my NYSC allowance.
But because of the zeal to move ahead, I used the NYSC period to organise a programme. I served at Federal School of Science and Arts, Ondo and was able to organise private evening lessons for people where I made a lot of money. I even employed some teachers and paid them. The money I go was N4,000. That time, N4,000 was more than N4,000 dollar because Naira was stronger than dollar that time.
I took it home to my elder brother to invest in business; thinking that if I go back to school, he will give it to me. Unfortunately, he embezzled everything. By the time, I went into trouble, he could not bail me out. That was my greatest set back. Even after NYSC I organized another programme where I made N1,000. That's what I used to register for my Masters Degree programme and stay for a term before I started running round for survival.
Things got so bad that I was not sure of what to eat the next minutes. I had no job. For three years, nobody called me or visited me from my family. So, if I had died nobody would have  known. Yet; I had no job. I lived the life that one can describe as terrible.
What I was doing then was that if I am able to dabble into money. Whatever the amount is, I will deposit it in a restaurant. Then, each time I am hungry, which is once a day, I will go, eat and they will tick that I have eaten. That way, I never had a kobo in my pocket.
I will got to the library in the morning and be waiting for 12 o'clock in other to go and eat where I deposited money. In most cases, I over eat and before they find out, miracle will happened and I will get money to pay for more food.
But something happened one day that made me to cry. The girl that used to serve us suddenly developed interest in me without telling me. A hungry man cannot fall in love.
(Laughter)
So she was hovering around me but I didn't know. Since I was not responding positively, she decided to be checking my account. She checked it and found out that I was indebted and ordered that no food should be served to me. So, that day, I didn't know and I stayed in the library until 12 o'clock to go and eat.  I saw then bringing out  pots of soup and heap of garri and other things. I now greeted the woman and the she looked at me and said, "This food, you will not eat it!"
Can you imagine where you don't have anywhere in the world where you can eat. You have only this place to eat and you see food but someone says you cannot eat. They told me not to bring bad luck to them. They saw me as bad luck.
Fortunately, that day, I had money on me. That day became a turning point. Somebody consulted me and paid me. God had revealed to me how to survive. I have found a way out. When I brought out the money, they said come.  I told the woman "Instead of eating here again, let me die because if I had not come with the money, I would have died today." So I started eating another place.
You can imagine that I was able to prospered as a student up till the level that I was able to live in my own apartment and even buy my own car. So God rescued me.
I was in school immediately after first degree through masters and PhD without working; yet no sponsor. It was only at the level of PhD that I go job here(UNN). So, from 1986 to 1990 I had no sponsor and nobody asked of me until I got job in 1990 and by 1993, I had my PhD.
[Tweet "Imagine what you life will be without challenges. Boring! Each time you face challenge and conquer it, your profile will rise. Challenges are necessary in life. At times I thank for challenges because I doubt what I can see now that I have not seen. "]
You talked about your parents and relations not coming to check on you. What must have influenced their attitude?
I can't really explain that. But I think part of it is ignorance. In a family where nobody went beyond primary six they didn't understand what it means to be in the university.
Your life from primary school is an epitome of resilience and doggedness. What must have built in that trait in you? Are there things your parents or catechist taught you that built in that virtue in you at that early stage?
I wouldn't give the credit to any catechist or my parents. I think it appeared that I had no option. I had one option to succeed or die and I prefer to die instead of going to beg anybody. Can you believe that throughout that period of hardship, it didn't occur to me to beg anybody or to call anybody or to travel to anybody. I prefer to die. And if I have to die, I would rather die in school than die anywhere else. So, it's a determination to survive. Everybody must determine to survive and I don't look at anybody as a saviour. I look at God as a savior and it has built me to the point that there is no problem I will have in this life and look at anybody. I will look at God.
Youths must develop self confidence; have aspirations and work towards it. People must not be dependent on anybody. Not even your parents. Your parent being a professor does not mean anything. They can die any day. I believe in setting Goal. I believe in perseverance. I believe in not giving up. I believe in God.
You talked about God so much that I want us to talk about Him a little. You have attributed your success to God; you have mentioned God again and again. Are you a pastor?
I don't need to be a pastor to harvest the grace of God. I am a living testimony that God is great. The Bible said that if you ask, you will receive and I believe that why most of us are in trouble is that we don't ask anything. If from my own humble background I can ask for first degree and God have more even third degree there is nothing God cannot give.
I am so grateful to God. I believe in the power of prayers particular when you pray and believe God for what you have prayed for and work towards it.  There will be obstacles. If you talk about obstacles in this world, I have seen a carton full of them but each one I survive prepares me for the next one. I thank God for everything.
Many people want to succeed in life but get stopped due to obstacles. Share with us your secrets of handling obstacles.
The greatest obstacle I have encountered is poverty. I have told you that I saw food and someone said that I can't eat and I survived. I have also escaped from poverty through a dint of hard work and creativity; not by begging anybody. I had to ask God for direction and God has been telling me what to do each time.
The second obstacle I have is when my wife died. He left four children and my son was to enter JSS1 and it was quiet bad. I had no money and I was abandoned by everybody.
Another one is those who said Jonah Onuoha will not be a professor and did everything to stop me but today I am a professor. So obstacle is not bad. I don't call them obstacles; I call them challenges. Imagine what you life will be without challenges. Boring! Each time you face challenge and conquer it, your profile will rise. Challenges are necessary in life. At times I thank for challenges because I doubt what I can see now that I have not seen.
---
*Editor's Note: This conversation is continues next week on The Mentor section. Keep a date with as we mirror the life of this outstanding academic; unravel his social life and success secrets.