INTERVIEW: "HOW TO MAKE WORLD CLASS CAKES AND PROFIT IT FROM IT" EKWU DABERCHI NWOKEOMA, CEO, NWOKEOMA CAKES & PASTRIES LIMITED
It's a popular saying that all of us come into the world with talents – what we do very well with ease. The CEO of Nwokeoma Cakes & Pastries Limited, Ekwu Daberchi Nwokeoma, is no exception! He was dispatched onto the earth with the spirit and skill of craftsmanship in sugar craft, decoration and events. To sharpen his talents, he travelled to China in 2003 to get trained and has been making cakes for the small and mighty in Nigeria and building cakes makers ever since.
On this week's edition of BizPeople, he shares with Brojid World editor, Joseph Dinwoke, how he  has been running his business profitably, expanded to different locations and  your opportunity to learn cake making wonders from him.
---
Thanks for joining us on this week's edition of Brojid World BizPeople. Let's get to know you.
My name is Ekwu Daberchi Nwokeoma, the CEO, Nwokeoma Cakes & Pastries Limited.
What is Nwokeoma Cakes & Pastries Limited all about?
We are a sugar and craft company. We produce what people consume for commercial purpose like cakes and pastries. And we don't just make cakes and pastries, we do it in style.
For instance, the Archbishop of Enugu Diocese of the Methodist Church, Bishop C.N Ede celebrated with his wife recently and asked me to give them a cake. Everything about the Bishop's attire and the wives dress was designed with cake.
People were surprised at how we designed the Bishop with the cake.  In fact, Archbishop Chukwuma of the Anglican Diocese of Enugu described the cake as omininious.
Because we design any kind of object you want on your cake, that's why we tell our customers and students: Imagine it difficult; we make it real. We only smile, when our customers are satisfied.
Also, do hall decorations, outdoor, indoor services, workshops/seminars for individuals and organizations.
How did you start?
Nwokeoma Cakes & Pastries Limited is a not a child of today.
While I was growing up, I found that I can put things together to make it like look something in the house. I kind of have that innate abilities to make craft. I also realized that I can use it to help people around me.
In 2003, I travelled to China to get trained on making cakes. The training lasted for four weeks. When I came back, I started small, and continued gradually from home.
In 2007, I got established and therefore could leave the house to my office. Before then, I did all my work at home and gave free cakes and pastries to churches which were avenues to advertise to about 200-500 persons seated.
I remember producing, free, Basket of Fruits for church harvest with different kinds of fruit is a basket using cake. I was called out in church to talk about my free cakes and that's how people started coming to me to make cakes for them.
How did you move from your first branch to other branches in Lagos, Enugu and Nsukka?
I put in my very best. I wouldn't say, someone assisted me with millions of naira.  I am not extravagant in spending; I have also had my mind on expansion; moving beyond my one office to building a bigger one so as to help people in my own little ways.
From the house I was staying, I got enough money to rent an office. When I expanded into two places in Lagos, I decided that I have to take it away from the state.
People come from the East; Cotonu and Ghana to Lagos for the training. I was surprised when someone told me, "Do this thing for me na, you know I came from Ghana." So, people started coming from far and near to get training on how to make cake from Nwokeoma Cakes & Pastries Limited.
I was getting many people from the south-eastern part of Nigeria and that's how come I decided to come down to Enugu.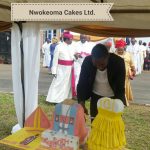 I gave free seminars for people then to announce my presence. A lot of people came; you know people like free things.
(General laughter)
But you know you can't ask me for free seminar again. That one don pass!
Tell us about holiday/summer training Nwokeoma Cakes and Pastries Limited is organising.
Holiday/summer training comes up every year, towards the end of the second semester; during the holiday.
At Nwokeoma Cakes & Pastries Limited, we train people to make world-class cakes and profit from it. We give promo to reach out to these students and youths who may not have the means to pay for our training on a normal.
We encourage them to give out the cakes they designed during their training to friends and relations who will place orders for cakes from them. When they are given job, we allow and assist them to get it done and they make all the money, save for the token they pay for the oven.
Nigeria is tending towards do it yourself for everybody. You have to work for yourself and not wait to for white collar job that is almost nonexistent.
Let me point out that we don't in any way reduce the quality of the services we render. We just slash the price to carry everybody along, since many of the participants are students, unemployed youths or low income men and women.
What is special about Nwokeoma Cakes and Pastries Limited cakes?
There are many sugar craft business; but we are unique. That's why our customers go out of their way to promote us among their friends.
One of our uniqueness is our sincerity in doing business. We don't disappoint anybody. Disappointment is one things that breaks relationship between customers and businesses. If I tell you that I will make your cake and deliver it at 12 noon, be sure that it will be ready at most 12 noon.
Nothing gives our customers joy like being sincere and keeping to our promise in terms of delivery.
We produce almost sugar free cake. For those that don't want cake, we offer them wheat cake. Our cakes are not sugary.
We have measuring scales to ensure uniform taste. We measure every single ingredient we use for the baking to ensure every cake we come out with great taste consistently.
We are incorporated. The regulatory agencies come here all the time. Their agents bash in to come and see what we are doing and how hygienic our workshop is.  So, we have no option than to maintain utmost hygienic condition.
To ensure hygienic cakes and pastries, our heads are covered in there. We wear our aprons. The air conditioner makes the place cool so that our workers don't sweat and risk their sweat dropping into the cake being prepared.
We deliver to you anywhere in the country. People don't even come close. They place orders online, call on phone and through our social media platform.
We take orders, produce and send you a picture of your work on WhatsApp, if you like it, we send it across to you.
Ochy Borju from Indonesia has been my friend on Facebook. I sent her cake from Nigeria and she paid.
How do you ensure effective training of your students?
We have a course outline which we follow sequentially to ensure that our students get well trained at the end of the 12 weeks of training.
We ensure that no student advance to a higher class without gaining mastery of the basics; that way, our students get versed in every area of cake production upon graduation.
We use dummy to train our students before taking them to baking with cake. At the dummy level, once you get it wrong; you can easily see it yourself.
Once you are done with our training, you have enormous opportunities waiting for you. You can start on your own straight away, work with a craft company and they pay huge money.
One good thing about cake business is that people will always celebrate. Nothing will take the place of events until Christ comes! Nothing will take the place of cake in an event. Not food. Not even bread!
How does the training last and what does it cost to participate?
Approximately 12 weeks but in two weeks, you are already a cake master. You can bake cake on your own. That's why after two weeks, many of our students are very eager to leave because they can't wait to go out to practice. But we ensure they stay back to perfect what they have learnt.
We are starting this years training from 5th August to 29th Oct, 2016. It costs only N36,000 only to participate. That's over 65% discount!
We go the extra mile to help our students realise the money they paid. Most of them make money before they graduate.
How?
We encourage them to give out the cakes they designed during their training to friends and relations who will place orders for cakes from them. When they are given job, we allow and assist them to get it done and they make all the money, save for the token they pay for the oven.
Even our graduates are allowed to come do their work in our office free until they get established.
We also employ our students. In the course of our training, we look for the best and retain them after graduation.
What's your biggest challenge as an entrepreneur?
Lack of government support for small and medium business owners is one of challenges. Nobody is giving you loan and when even apply for grant; the process is too long and frustrating.
Another challenge is that once you establish your business, you keep seeing agberos (touts) who will come to collect kiosk money and all manner of levies from you.
Government can help Nigerians by sponsoring people to get trained in baking cake; so as to take the many unemployed youths off the street.
If you are standing before 5000 Nigerians, give them business advice on starting and running their business successfully.
One thing that carries you is your passion for a particular thing. If you didn't have passion for making cake, even if they give you N100M, it will not serve you.
If you look around, you will find that many highflyers are doing what they have passion for and drive joy doing.
Don't go into anything fraudulent that will get you money. It will fail.
Believe in yourself and start with the little you have. Once God blesses your effort, the sky won't even be your limit. It's better to try and fail than sit down, do nothing and never know if you have a chance at success.
---
For more details, kindly, call/text/WhatsApp, Nwokeoma Cakes & Pastries Limited on 0803 392 3434